findings
Put them together with your lampworked beads to make beautiful jewelry -- again and again.

Earring Assembly - French wire

View Assembly Video
or
see illustrations below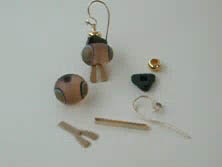 Glass beads © Susan Simonds
Larger file (1.9 M)
or Smaller file (380 K)

Click to get Quicktime player (To return from Apple site you may want to bookmark this page)

To play video in a new window, click on either link. Use your browser's back button to return.
You may enlarge the viewing screen by downloading the video to your computer. Right click on either file and choose "Save Target As" in Explorer or "Save Link As" in Netscape. (Smaller file will be grainy but adequate when enlarged)

Assembly Illustrations:
The assembly of an earring is described and illustrated below. The finished earring shown at the left in each illustration is ready to wear and the bead is safely locked in place by the earring finding.
Glass beads © Kristen Frantzen Orr