Reusable jewelry system for flame worked beads
Links



Ganoksin The gem and jewelry world's foremost information resource on the Internet. Open to the public, free of charge - a substantial library of articles, publications, reports, and technical data on gem and jewelry related topics, as well as a sizable collection of art and jewelry galleries, for both the casual visitor and the professional.

VISIT THE OTHER BEADIFFERENT SITE


BeaDifferent Press LISA VAN HERIK'S "Make Wire Beads" and the new "Studio in a Bag" series.
Lisa Van Herik and I are jewelry artists who work primarily in metals. In 1999 we independently began ventures into the bead community and we each chose a variation of the name "Beadifferent". We discovered one another in 2000 and discussed the issues. We felt that it would be best to become allies in a complementary relationship, referring visitors to each site and trying to dispell the confusion for our guests. She will continue to use "BeaDifferent" for her publishing company and I will use for the reusable findings on this site. We apologize for any difficulty this may cause you.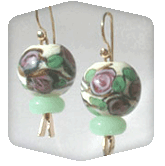 Glass beads © Dolly Ahles